Razor Comb Hair Cutter Comb Cutting Scissors, Double Edge Razor, Hair Thinning Comb Slim Haircuts Cutting Tool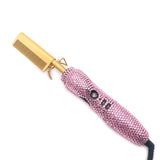 Description:

Barber Scissor DIY Hair Cut Hair Style Razor Comb Hairdressing Thinning Trimmer
Professional trimmer bomb for barker supply
Professional haircut blade comb, easy to operate 
Trim your hair the professional way at home! 
Trimmer works with gentle combing action to trim hair deep or light. 
Works well on all long or short hair. 
Attention: This product is sharp and should be handled with care. 

More from this collection