Lazy Cosmetic Bag, Maxtour Makeup Toiletry Jewelry Organizer with Zipper and Drawstrings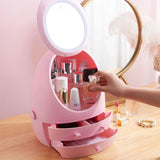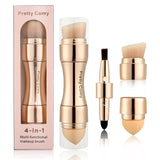 Specification: 
Stylish Design-When you open the drawstring, the bag layout completely flat within seconds, you can see all of your toiletries and cosmetics at once.No more digging and dumping in a traditional black hole makeup bag.Easy to find everything.

Magic pocket-The outside has a mini pocket, the Inside has two zipper pocket, which can be respectively provided with small beauty tools, sharp cutting eyebrow clip or cosmetic cotton and so on. Solve the trouble to carry small items.

Large Space-Unfold size:20"*20", it is enough to put all the daily essentials into the single bag.Foldable, portable and lightweight, easily put it in your backpack or luggage.

Use Flexible-Put all of the toiletries on the bag, tighten the two lines drawstring, quickly pack. Close the outside velcro, prevents the tiniest of your items from falling out. If you're in a hurry you don't even have to open the bag fully- pull the drawstring halfway and grab what you need. makeup bag can be worked as a cosmetic bag, toiletry bag, and jewelry bag, etc.

Waterproof Material-Made of high-quality Oxford cloth, dirt resistant and easy to clean. You can use it as toiletries bag, storage bag, travel bag, the bathroom receive bag, makeup receive.
More detail Photos:
More from this collection