Sugar Lip Scrub Exfoliator
SKU:
26681526-strawberry-flavor-united-states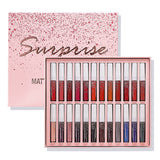 Usage:
Clean lips, with warm towel lips.
take a proper amount of lip scrub and smear it evenly on the lips.
Gently knead massage for one minute, soften the dead skin of the lips.
After washing the lips with warm water a proper amount of lip balm can be applied.
Strawberry and Cucumber Extract Rich in nutrients, containing a variety of acid, vitamins and minerals,
improve the nourishing and moisturizing effect.
Promote the blood circulation of lips, soften the exfoliation of lips, and make lips smooth and moist.
To get rid of the lip peeling and reduce lip wrinkles
Package Included:
More from this collection